International Neuropsychological Society


Forty-Fifth Annual Meeting:

INS New Orleans 2017


February 1-4, 2017, New Orleans, Louisiana, USA
INS Meeting Registration Confirmation


Please retain this email for your records
Attendees — PLEASE NOTE:
Please carefully review all information in this email. This is the only* confirmation of your meeting registration that you will receive prior to your arrival at the INS meeting in New Orleans. *If you did NOT receive a separate PAYMENT receipt in your email, please check your spam filters, or if needed, contact INS@utah.edu or call 1-801-487-0475.
Your GENERAL MEETING REGISTRATION, other registration options, and any CONTINUING EDUCATION (CE) OPTIONS you may have selected are listed at the bottom of this email. **Please take a moment to review your selections for accuracy.**
Please add INS@utah.edu to your list of preferred email senders to ensure that you receive important emails regarding the INS Meeting. You will be contacted at the email and/or telephone number that you provided during registration if we have questions regarding your registration.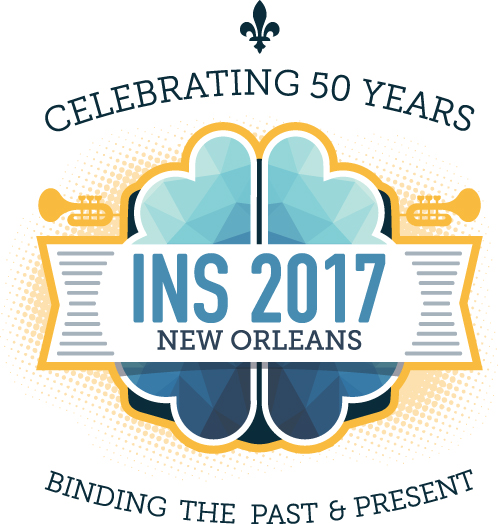 On behalf of INS and the New Orleans Program Committee, thank you for registering for the INS 45th Annual Meeting, which will be held February 1-4, 2017 at the New Orleans Marriott, Canal Street in the French Quarter of New Orleans, Louisiana, USA.
INS NEW ORLEANS WEBSITE
Please bookmark the INS New Orleans 2017 meeting website at the-ins.org/2017-Annual and visit often as you begin planning your trip. We are delighted that you have chosen to join us at the upcoming INS meeting, and we look forward to connecting with you in the Big Easy of New Orleans!
INS HOTEL RESERVATIONS
Registered INS attendees have access to deeply discounted rooms, but only if they book within the INS room block at the New Orleans Marriott. Discounted INS room rates begin at just $185 per night (USD) for single occupancy—an incredible deal in New Orleans!
To reserve a room in the INS room block, you must book through the INS website at the-ins.org/2017-Annual. You must book your hotel by January 9, 2017 in order to receive the INS group discount. Please be advised there are a limited number of discounted rooms, and because these rooms are very popular, we recommend that you reserve your INS hotel room as early as possible.
WHEN YOU ARRIVE AT THE MEETING…
Check-in at the INS Registration Desk on the New Orleans Marriott

3rd

Floor to retrieve your name badge & materials
Attention—Non-Member Student Registrants: Please submit proof of student/training status at the INS Desk, either by showing us a letter from your supervisor or by showing your current student photo identification
REGISTRATION QUESTIONS & CHANGES:
At this time, registration CHANGES cannot be made online. To add CE options or make any changes to your registration, please contact the INS Registration Coordinator at insmeeting@gmail.com or leave a message for Ave at (+1) 801-487-0475.
All full or partial event registration CANCELLATIONS must be submitted in writing to insmeeting@gmail.com or by fax to (+1) 801-487-6270 (cancellations are not accepted by phone). All returned or contested payments are subject to a $30 processing fee. Refunds will be issued within 3-5 weeks of the date of the request, and will be issued in the same form payment was made. All full or partial registration cancelations and returned payments are subject to the following fee schedule:
Until January 4, 2017: Refund less a $50 admin fee (Students' Refund less a $20 admin fee)
Until January 25, 2017: Refund less a $75 admin fee (Students' Refund less a $30 admin fee)
After January 25, 2017: No refunds after this date (CE additions and changes ARE permitted until 24 hours prior to the start of each CE workshop or plenary session)
Please direct any other meeting registration QUESTIONS or related requests to insmeeting@gmail.com or leave a message for Ave, the INS Registration Coordinator, at (+1) 801-487-0475.
OTHER IMPORTANT ATTENDEE INFORMATION:

Badge. The INS name badge must be worn during ALL events and activities that occur at the New Orleans Marriott in conjunction with the INS 45th Annual Meeting, whether events are INS-sponsored or privately-hosted (including at all affiliated meetings, and during postdoctoral and other candidate interviews that occur on-site). If you enrolled in optional CE Workshops, your name badge is required for entry into those sessions (entry is not permitted without your badge, without exception).

Consent and Photo Release. By registering, attendees give their consent and agree: 1) that INS has permission to contact them regarding this and/or other INS activities and products, and that their email may be transferred to vendors who receive INS approval for the purpose of sending commercial email related to the attendee's participation in this event (attendees are given the opportunity to opt-out of commercial email upon receipt) and 2) to allow INS to take photographs, videotape or digital recordings of them during participation in the INS meeting program; to grant INS the right to edit or reuse this media for purposes deemed appropriate by INS; and to release any and all present or future rights, claims, or interests in said media.

Cell Phones & Audible Alerts. Please mute or switch all cell phones, pagers, and other mobile devices to vibrate mode when entering sessions.

Code of Conduct. All participants (including registered attendees and their guests, speakers, exhibitors, volunteers, staff, and all others) are anticipated to conduct themselves in an appropriate, professional, and respectful manner at all times during the INS 45th Annual Meeting. If an individual is unable to meet these expectations, INS reserves the right to ask them to leave the meeting without reimbursement.

No Flash Photography and/or Recording. Flash photography is always strictly prohibited. Photos and/or other recordings may not be taken in the Exhibit Hall, or of any presentation without the express, written permission of the presenter(s).

Program Cancellation. If an event is cancelled or closed by INS because of under- or over-enrollment, we will fully refund registration for that course. INS is not responsible for any other costs incurred by participants in the event of INS program cancellation, including travel and other such expenses.

Requests for Accommodations. Please email INS@utah.edu to request accommodations for specific needs, disabilities, or other circumstances that may affect your ability to participate in the INS Annual Meeting. Reasonable efforts will be made to accommodate requests that are received before January 13, 2017.
The International Neuropsychological Society (INS)
2319 South Foothill Drive, Suite 260, Salt Lake City, Utah 84109, USA
US Federal Tax ID #04-2614877
(+1) Phone: 801-487-0475 or Fax: 801-487-6270
Visit INS online at the-ins.org or email INS@utah.edu