Plenary G: The Faithful Brain
Course Date: Saturday, February 04, 2023
Course Time: 12:15 - 13:15 (12:15 PM - 01:15 PM)
Timezone: America/Los_Angeles
Instructor(s) Jordan Grafman
Level of Instruction: Intermediate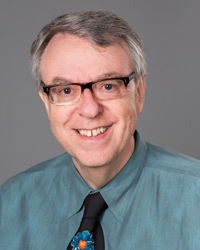 Jordan Grafman, PhD
Director, Brain Injury Research, Shirley Ryan AbilityLab & Northwestern University
Credit Hours: 1.0
Level of Instruction: Intermediate
Plenary G: The Faithful Brain
Abstract & Learning Objectives:
Religion's neural underpinnings have long been a topic of speculation and debate, but an emerging neuroscience of religion is beginning to clarify which regions of the brain integrate moral, ritual, and supernatural religious beliefs with functionally adaptive responses. In my presentation, I will review evidence indicating that religious cognition involves a complex interplay among the brain regions underpinning cognitive control, social reasoning, social motivations, emotion, reinforcement, and ideological beliefs. I will then conclude my presentation by summarizing current and future research efforts and why searching for God in the brain is critical to our understanding of human behavior.
Upon conclusion of this course, learners will be able to:
1. Summarize the methods used to study the neural basis of religious belief.
2. Recognize which neural regions are key for mediating religious belief.
3. Describe why this knowledge is important when working with patients who have to make important decisions.
Speaker Biography:
Since the latter part of 2012, Dr. Jordan Grafman has been the director of Brain Injury Research at the Shirley Ryan AbilityLab and is on faculty at Northwestern University's Feinberg School of Medicine in the Departments of Physical Medicine and Rehabilitation, Psychiatry and Behavioral Sciences, and the Cognitive Neurology and Alzheimer's Disease Center as well as the Department of Psychology in the Weinberg College of Arts and Sciences. Before joining Shirley Ryan AbilityLab, Dr. Grafman was briefly director of Traumatic Brain Injury Research at the Kessler Foundation in West Orange New Jersey. Prior to that appointment in 2011, Dr. Grafman was Chief of the Cognitive Neuroscience Section at the National Institute of Neurological Disorders and Stroke in Bethesda, Maryland for many years. His investigation of brain function and behavior contributes to advances in medicine, rehabilitation, and psychology, and informs ethics, law, philosophy, and health policy. His study of the human prefrontal cortex and cognitive neuroplasticity incorporates neuroimaging and genetics, an approach that is expanding our knowledge of the impact of traumatic brain injury, as well as other diseases that impair brain function. Dr. Grafman has recently turned his attention to the study of human beliefs and the brain basis of religious belief and practice.