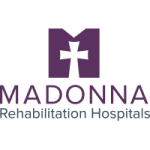 Website Madonna Rehabilitation Hospitals
Psychologist Positions at Madonna Rehabilitation Hospitals
$5,000 Sign On Bonus
Madonna is hiring for full-time positions in the Neuropsychology Departments of our Lincoln and Omaha campuses.
The psychologist's assigned position will be tailored to his or her experience and training. The psychologist may perform outpatient neuropsychological assessments, with complexity of evaluations based upon interest. The psychologist may also work with our CARF-accredited traumatic brain injury and stroke rehabilitation teams, providing rehabilitation counseling. We have a Health Psychology opening as well, treating persons with a range of conditions, including those with persisting symptoms following COVID.
We are also offering a two-year post-doctoral training program, under the supervision of a board certified neuropsychologist. Our post-doctoral program offers a rich diversity of training experiences in a supportive environment, with competitive pay.
Requirements are flexible. Must possess current NE licensure or eligible to obtain licensure within 14 months of hire. Training and experience in the above areas are helpful qualifications, but we will consider well-trained generalists with good teamwork skills and a willingness to learn.
Madonna is a mission-focused organization with a culture of teamwork and mutual respect. We have experienced and close-knit treatment teams that welcome the input of our psychologists. We choose to focus on meaningful contributions to recovery rather than rigid productivity targets. The Psychology department offers flexibility of schedules to balance work with family and life responsibilities.
Opportunities exist for the supervision of trainees, as well as research involvement.
Lincoln has been rated as among the top ten "best places to live," according to Livability.com, due to its affordable housing, high quality schools, and modern amenities.
Omaha is a community of over 900,000 people, known for being one of the nation's friendliest cities with a moderate cost of living.
To apply, please contact:
Angela Kugler, Human Resources,
Madonna Rehabilitation Hospital,
5401 South Street
Lincoln, NE 68506
402-413-4337; or
Dr. Travis Groft,
Director of Neuropsychology,
402-413-3547,
or apply online at www.madonna.org