Plenary E: Learning from patients: people who have changed my way of thinking
Course Date: Saturday, February 04, 2023
Course Time: 11:00 - 12:00 (11:00 AM - 12:00 PM)
Timezone: America/Los_Angeles
Instructor(s) Barbara Wilson
Level of Instruction: Advanced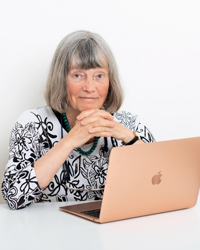 Barbara Wilson OBE, Ph.D, D. Sc., CPsychol, FBPsS, FmedSC, AcSS
Founder of the Oliver Zangwill Centre for Neuropsychological Rehabilitation, Ely, Cambridgeshire, United Kingdom
Credit Hours: 1.0
Level of Instruction: Advanced
Plenary E: Learning from patients: people who have changed my way of thinking
Abstract & Learning Objectives:
This presentation discusses six patients with different problems, referred for rehabilitation, who challenged my views on how to apply neuropsychological principles to their treatment. We begin with Derek, who had sustained a traumatic brain injury from a gunshot wound. I was asked to reduce his weight, but he could not read or write because of the brain injury so I had to find another way to achieve the weight loss. This made me realize that neuropsychologists have to "think on their feet" and be flexible. The second patient is Kate, who developed brain stem encephalitis. Expected to die, and unable to speak, she convinced me that, however severe the injury, we should not give up and recovery can continue for many years. Kate, managed to speak intelligibly fourteen years after her illness! The next patient, Claire, a school nurse, had herpes simplex encephalitis which left her with prosopagnosia and extreme anxiety. Her story made me realize the personal consequences of prosopagnosia that is typically overlooked by most neuropsychologists. The fourth patient, Gary, was attacked by a gang while saving his father. He remained in a state of unconsciousness for 19 months and, thus, had a very poor prognosis. Nevertheless, he defied the predictions of all medical staff, woke up and did very well. The penultimate patient is Natasha, who, as far as we know is the only person in the world to have two syndromes, "Sheehans Syndrome" which is very rare in developed countries and "Sickle cell disease" which is not rare. As a result of the Sheehan's she developed Balint's Syndrome. Her case made me learn about Sheehan's Syndrome and accept that Natasha's main goal in life, was not what I expected it to be. The final patient is Paul, an opera singer, who was diagnosed with" Locked-in Syndrome" following a brain stem stroke. Not only was he a good communicator once a good system was found, but he felt he had a good quality of life by" living within his head". Although many of us feel that to be fully conscious but totally dependent on others, is a very cruel situation to be in, Paul did not feel this. All these patients taught me a great deal and I thank them for this.
Upon conclusion of this course, learners will be able to:
1. Describe the main purposes of neuropsychological rehabilitation
2. Discuss about six patients who challenged typical concepts about neuropsychological rehabilitation
3. Gain some knowledge about Sheehan's syndrome
4. Explain the three components of Balint's syndrome
5. Summarize the difference between Locked-in syndrome and the minimally conscious state
6. Recognize some of the anatomy associated with these syndromes
Speaker Biography:
Dr. Barbara Wilson is a clinical neuropsychologist who has worked in brain injury rehabilitation for 43 years. She has published 33 books (with another about to be submitted), 205 peer reviewed papers, 124 chapters and 8 neuropsychological tests. She has won many awards for her work including an OBE from the Queen in 1998, for services to rehabilitation; five lifetime achievement awards, one from the British Psychological Society, one from the International Neuropsychological Society, one from the National Academy of Neuropsychology, one from the Encephalitis Society and one from the NHS 70 year anniversary parliamentary awards where she was regional champion for the Midlands and East Region. In 2011 she received the Ramon Y Cahal award from the International Neuropsychiatric Association. In 2014 she received an honorary degree from The University of Cordoba, Argentina. Also in 2014 she received the M.B. Shapiro award from The Division of Clinical Psychology (affiliated to The British Psychological Society) for Distinguished Contributions to Clinical Psychology. In 2019 she received the annual award from the Spanish Clinical Neuropsychological Society. She is editor of the journal "Neuropsychological Rehabilitation" which she founded in 1991 and in 1996 she established the Oliver Zangwill Centre for Neuropsychological Rehabilitation. A rehabilitation centre in Quito, Ecuador is named after her. She is president emeritus of the UK Encephalitis Society and until recently was on the management committee of The World Federation of Neuro Rehabilitation. The UK Division of Neuropsychology has named a prize after her, the 'Barbara A Wilson prize for distinguished contributions to neuropsychology'. She is a Fellow of The British Psychological Society, The Academy of Medical Sciences and The Academy of Social Sciences. She is honorary professor at the University of Hong Kong, the University of Sydney, the University of East Anglia and Fernando Pessoa University, Porto, Portugal. She has held 30 research grants. Her work has resulted in changes in clinical practice. For example, as a result of a randomised control trial evaluating a paging system to improve the everyday functioning of people with memory and planning problems, the local health authority set this up as a health care system for people throughout the United Kingdom. Barbara A Wilson has been involved in the training of clinical psychology trainees (interns) for many years. Some of her ex students have been high achievers. These include Jonathan Evans, Linda Clare, Nick Alderman, Jane Powell, Tatia Lee and Agnes Shiel, all of whom are full professors.