Website Banner Sun Health Research Institute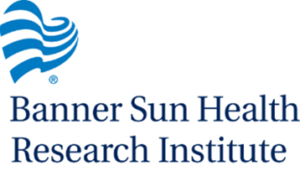 Clinical Postdoctoral Fellowship in Neuropsychology, Cognitive Aging, and Alzheimer's disease and Related Dementias
We are pleased to announce an opening for 1 clinical postdoctoral fellowship position in Clinical Neuropsychology in Cognitive Aging and Alzheimer's disease (AD) and Related Dementias (ADRD). This position is based at the Banner Sun Health Research Institute (BSHRI} in Sun City, Arizona (www.BannerSHRI.com) with potential for collaboration with our sister campus, Banner Alzheimer's Institute (BAI} in Phoenix, Arizona (www.BannerAlz.org).The anticipated start date for this 2-year postdoctoral fellowship is between July and September 2022. This fellowship follows the scientist­ practitioner model of training, with a goal of producing skilled clinical neuropsychologists and is designed to meet the Houston Conference guidelines.
BSHRI is on the forefront of clinical and research efforts in the areas of healthy aging, Alzheimer's disease and related disorders, and Parkinson's disease and other movement disorders. Direct clinical care activities include conducting comprehensive neuropsychological evaluations of older adults referred for dementia and related disorders, movement disorders and for pre-deep brain stimulation evaluation. Fellows receive clinical supervision with faculty neuropsychologists under the direction of Christine Belden, PsyD, Director of the Neuropsychology Center. Fellows are encouraged to observe brain cuttings and whole-body autopsy in our Brain and Body Donation program. Additionally, fellows will attend didactic seminars and weekly collaborative case conferences. Additionally, fellows will be involved in supervision of pre-doctoral clinical psychology students, with presentations on clinical topics including diversity and ethics.
Candidates for the postdoctoral fellowship must have completed all doctoral degree requirements, as well as a pre-doctoral internship with an emphasis in neuropsychology. Salary is competitive, and benefits include health insurance, paid time off and conference time.
Application materials must include:
Provide a 1-2-page letter describing clinical and research experiences and interests, fellowship objectives, and career goals.
Current curriculum vitae
Three letters of reference from professionals familiar with your clinical experience.
Three sample reports with identifying information redacted, reflecting a breadth of clinical experience.
For more information, please email Christi Belden, PsyD, at christine.belden@bannerhealth.com.
Please submit application materials by December 15, 2022.