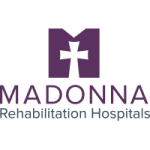 Website Madonna Rehabilitation Hospitals
Job Opportunity: Neuropsychologist – Omaha, Nebraska
Madonna Rehabilitation Hospitals is currently hiring for a full-time position available in the Neuropsychology Department of our Omaha, NE Campus.
Clinical responsibilities of this position include outpatient neuropsychological assessment and consultation. The psychologist will perform detailed testing using standardized neuropsychological assessment procedures. Madonna works with a broad range of diagnostic groups, including persons with traumatic brain injury, mild TBI, stroke, post-COVID, dementia, and other neurological disorders. Madonna provides several outpatient multidisciplinary clinics which provide opportunities for briefer assessments and teamwork.
Although this is primarily an outpatient position, there can be opportunities to work with some of our CARF-accredited inpatient acute rehabilitation programs, providing brief cognitive assessments and consultation with our interdisciplinary teams. Our programs include traumatic brain injury, stroke, pediatrics, and complex medical conditions.
Training and experience in neuropsychology is required. Experience across the entire spectrum of age groups, including pediatrics and geriatrics is a plus, although not required. Board certification or eligibility is a helpful qualification, although not required to be considered for the position. A doctoral degree from an APA-accredited program is expected. Must possess current NE licensure or eligible to obtain licensure within 14 months of hire.
The psychologist would join a collegial and experienced department of psychologists and rehabilitation counselors. Frequent opportunities for departmental didactic training as well as transdisciplinary interaction and are available. We typically have practicum students training in our facility through our relationships with several local colleges. Opportunities often exist for the supervision of trainees, as well as research involvement with our Institute for Rehabilitation Science and Engineering. Omaha, Nebraska, is a thriving city of 840,000 people known for being one of the nation's friendliest cities with a moderate cost of living. Please see Madonna's website for much more information on our hospital and community: www.madonna.org
To apply for this position, please contact:
Ann Schweiss, Human Resources, Madonna Rehabilitation Hospital, 402-401-5333;
Dr. Jacqueline Farris, Director of Neuropsychology (Madonna Omaha Campus), 402-401-3560;
or apply online at www.madonna.org