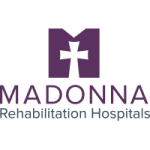 Website Madonna Rehabilitation Hospitals
Job Opportunity: Neuropsychologist/Rehab Psychologist – Lincoln, NE
Madonna Rehabilitation Hospitals is currently hiring for a full-time position available in the Neuropsychology Department of our Lincoln, NE Campus.
Responsibilities of this position include outpatient neuropsychological assessment and inpatient rehabilitation work. The psychologist will perform neuropsychological assessments with persons with traumatic brain injury, mild TBI, stroke, dementia, and other neurological disorders. Madonna provides several outpatient multidisciplinary clinics which provide opportunities for briefer assessments. The psychologist will also work within one of our CARF-accredited inpatient rehabilitation teams, providing cognitive assessments, psychoeducation, and rehabilitation counseling.
Training and experience in neuropsychology is required, and experience with medical and rehabilitation psychology is preferred. Board certification or eligibility is a helpful qualification, although not required to be considered for the position. A doctoral degree from an APA-accredited program is expected. Must possess current NE licensure or eligible to obtain licensure within 14 months of hire.
The psychologist would join an experienced department of psychologists and counselors, including board-certified neuropsychologists. We typically have practicum students training in our facility through our relationship with the University of Nebraska. Frequent opportunities for departmental didactic training as well as transdisciplinary interaction and training are available. Opportunities often exist for the supervision of trainees, as well as research involvement with our Institute for Rehabilitation Science and Engineering.
NOTE: Madonna Rehabilitation Hospital in Omaha has a position available that involves only outpatient neuropsychological assessment. Please contact us if you are interested in that position.
Lincoln, Nebraska is a vibrant city of over 288,000 in the eastern part of the state, about fifty miles from Omaha. In 2019, Lincoln was rated as among the top ten "best places to live," according to Livability.com, due to its affordable housing, high quality schools, many modern amenities, and the presence of the University of Nebraska/Lincoln and other educational institutions.
To apply for this position, please contact:
Angela Kugler, Human Resources
Madonna Rehabilitation Hospital
5401 South Street
Lincoln, NE 68506
402-413-4337; or
Dr. Travis Groft, Director of Neuropsychology
(Madonna Lincoln Campus), 402-413-3547,
or apply online at www.madonna.org