Telehealth Resources During COVID-19
Dear INS Colleagues, As a global organization we are acutely aware of the challenges that INS members, and their communities, face in the context of COVID-19.   Our world has changed. We must do our best to learn from these adverse events and support our patients, trainees, and colleagues who are struggling with health and financial vulnerabilities.  We write now to assure you that INS remains committed to its scientific and educational mission.  In the near future we intend to offer a free-of-charge webinar focused on the science and practical aspects of telehealth. We also want to alert you to the fact that we are having ongoing conversations about the mid-year meeting in Vienna. We have not yet cancelled the meeting but we are considering a number of modifications to the current format.  We will update you as soon as we have made final decisions. We remain proud of our profession and find it heartwarming that our community has come together to support one another in this time of uncertainty.  We wish health and safety to you and your loved ones.
Thursday, April 23, 2020
ENCORE LIVE Webinar PRESENTATION
On behalf of the TeleNeuropsychology Subcommittee of the Sports Neuropsychology Action and Professional Practice (SNAPP) Committee, the Sports Neuropsychology Executive Board, and the Association of State and Provincial Psychology Boards we invite you to attend this free webinar!
1 hour of CE credit will be available for SNS members only
Thursday, April 23, 4-5pm Eastern Time
TELEPSYCHOLOGY and PSYPACT Understanding Interstate Practice during the COVID-19 Crisis and into the Future April 23, 2020
---
Thursday, April 16-17, 2020
Q&A Forum for Neuropsychology Interns during the COVID-19 Pandemic

---
Teleneuropsychology (TeleNP) in Response to COVID-19: Practical Guidelines to Balancing Validity Concerns with Clinical Need
VIEW THE WEBINAR REPLAY HERE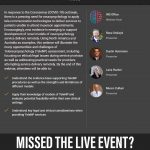 Updates from Around the World
COVID-19 is affecting everyone, right across the world. It is not surprising, then, that practice, research, and teaching of neuropsychology have been substantially disrupted. The INS Global Engagement Committee (GEC) is concerned with supporting development of neuropsychology around the world, and particularly in countries where neuropsychology is less well developed.  Members of the GEC from across the world have been discussing how practice, research and teaching are being affected, the issues that members are dealing with, and some of the creative solutions being implemented. Here are a few examples from GEC members that reflect a little of what is happening around the world.
In GEC discussions, Dr. Alberto Fernandez (Argentina), Dr. Alia Ammar (United Arab Emirates), Professor Skye McDonald (Australia), Dr. Natalia Ojeda del Pozo (Spain), Dr. Aparna Dutt (India), Dr. Lingani Mbakile-Mahlanz (Botswana), Dr. Leandro Malloy-Diniz (Brazil), Dr Taina Nybo (Finland) and Dr. Elizabeth Kera (US and Croatia) all mentioned that the question of how best to use teleneuropsychology is being explored in their countries. Clearly this is a topic that is exercising the whole neuropsychology community just now.
In addition to remote neuropsychological assessment, people are trying to work out how to provide neuropsychological rehabilitation remotely. In this area the work from colleagues in Australia is particularly important. Rene Stolwyk, Dana Wong, Jennie Ponsford and their colleagues in Melbourne have been using telehealth approaches to cognitive rehabilitation. The Australian Centre for Research Excellence in Aphasia, at La Trobe University in Melbourne has developed a
website
aimed at helping people with aphasia during COVID-19. Also, Professor Skye McDonald's team at the University of New South Wales has developed set of resources to help families coping with a family member with challenging behaviour. This is a set of seven modules that families can work through and is freely available from Professor McDonald's
webpages
.
In Brazil, Dr. Leandro Malloy-Diniz has worked with interdisciplinary colleagues to produce a paper in the Brazilian Journal of Psychiatry on the wider psychological and mental health issues associated with COVID-19, discussing the public health challenges of changing, or nudging, the behaviour of populations of people who need to distance themselves from each other; the impact of social isolation on the general population and particularly those with existing mental health difficulties; and the importance of supporting the mental health of health workers. The article is freely available online
here
In Finland, Dr. Taina Nybo reported that at Helsinki University Hospital, which is the largest hospital in Finland and largest neuropsychology unit (about 40 neuropsychologists) they have been working to improve remote contacts with patients.  All rehabilitation patients are offered a remote contact and the team is developing digital neuropsychological rehabilitation pathways for people with mild-moderate acquired brain injury.
Those working in private practice and in healthcare systems that involve remuneration per patient contact are suffering a dramatic loss of income. This is happening in places where incomes are already modest and psychologists are often supporting both themselves and interns/assistants. For example, Dr. Aparna Dutt, working in Kolkata, India notes that patient in this country typically pay for each neuropsychology consultation session, but with clinics cancelled there is no income. In addition, many patients are also experiencing loss of income as a result of the wider economic impact of COVID-19, so may not prioritize a neuropsychological evaluation. Many psychologists around the world similarly depend on individual consultations for their income, and as consultations have stopped, income is zero.
Dr. Natalia Ojeda Del Pozo is in the Basque region of Spain. At the time of writing Spain has 80,000 people infected and has suffered 6,500 deaths, in a country of 45 million people, and of course that will only increase tomorrow. Spain has a good quality publically funded health system, but the intensive care units are overwhelmed and lacking in critical personal protective equipment (PPE). Neuropsychological assessment and treatment in-person are not happening, and the priority has shifted to online psychological therapy. Natalia reported that the situation is frightening and stressful, but a positive part of the situation is that people are developing a greater sense of community, and networking more. As in many other countries, health professionals are honored at 8pm everyday by people applauding from their windows for two to three minutes. People are also getting together and organizing to support each other, and being very creative in finding solutions to problems. Natalia mentioned a service being provided by the Professional Association of Psychology in Bizkaia. Up to 86 clinical psychologists have been recruited. These are mainly psychologists whose only income comes from private practice. They are providing online support to anyone who contacts the association. The service is free of charge to users and the professionals are being paid by the Society which means that as well as a service to the community it is also a way to help professionals to guarantee a minimum income during this crisis period. The Neuropsychological Society in Madrid has created
this webpage
to provide advice to patients and families and some companies are offering their online cognitive rehabilitation services free of charge, so patients can access from home. Patient associations are organising to offer recommendations, relevant manuals and more informal tips. For example, children diagnosed with Autism and other neurodevelopmental disorders are wearing a big blue ribbon or blue T shirt so that they can go outside their houses and walk for a while to relieve distress and help the children deal with the isolation.
In Taiwan, Professor Nai Wen Guo, the President of Association of Taiwan Clinical Psychologists and also the President of the Taiwan Association of Neuropsychological Developmental and Mental Rehabilitation, is working with the government's Central Epidemic Command Center (CECC). Prof Guo is working to promote mental health awareness and the importance of maintaining emotional health and well-being during the COVID 19 crisis. She and her team have created a set of brochures titled "Go through the storm of COVID-19" for children and older adults in four language versions including Chinese, English, Indonesian and Vietnamese. The resources are available nationwide on the
wellbeing resources platform
. In addition, they are distributing the printed brochure to all government units.
In the United Arab Emirates, Dr. Alia Ammar noted, neuropsychologists may be worried about the validity of assessments if they deviate from standard practice, but of course interpretations are often having to take account of contextual information – she notes that in the US she used to have to take account of patients being distracted by helicopters landing at the adjacent trauma heliport, and since moving to the United Arab Emirates has to take account of the adhan, the Muslim call to prayer coming from loudspeakers at adjacent mosques.
In the United Kingdom, the British Psychological Society Division of Neuropsychology Professional Standards Unit is developing a set of guidelines for remote assessment, with particular discussion of the issues associated with the assessment of children, people with intellectual disability and older adults including those with dementia. Similar guidelines have been, or in the process of, being put together in other countries.
In the United States, Drs. Munro Cullum and Ken Podell participated in a
webcast
moderated by Drs. Yakeel Quiroz, Cady Block and Nick Puente. Dr. Michelle Prosje developed a
video
on mental health effects of COVID. On April 2, 2020, INS hosted: "Teleneuropsychology (TeleNP) in Response to COVID-19: Practical Guidelines to Balancing Validity Concerns with Clinical Need," a presentation by Dr. Munro Cullum, Dr. Dustin Hammers, Dr. Lana Harder, and Dr. Rene Stolwyk. You can watch the replay of the live event
here
.